Home
Lurie Cancer Center Clinical Trials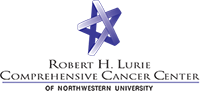 Welcome !
Welcome to our Mobile Clinical Trials Search Application. Please tell us about yourself and let us know if you would like to receive our Clinical Trials Newsletter and other news from the Lurie Cancer Center. Once you have done so, this form will no longer be displayed here on the home page of the application. Scroll down past this form to search our Clinical Trials without filling it out.
Browse By Principal Investigator
Browse by Subcategory
Search
Professional Education Events
Installation Instructions
iPhone users:
tap the
icon at the bottom of the screen and select "Add to Home Screen". You may need to select "switch to Safari" or tap the
Safari icon first.
Android users:
tap the
icon at the top of screen and select "Save to Bookmarks". Select "Add to > Home Screen" from the menu. You may also make a regular bookmark and then later, long-press on the bookmark and select "add shortcut to home".
© Robert H. Lurie Comprehensive Cancer Center of Northwestern University